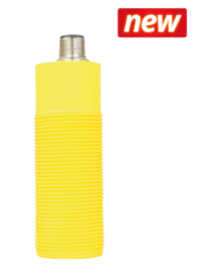 Inductive Sensor, -25°C up to 70°C
Sensing Distance: 35 mm, adjustable, Mounting: Nicht bündig, 10-55V DC, PNP Schließer / Öffner, short circuit proof, Housing Material: Kunststoff,
Plug: S4 (M12 x 1)
The new inductive ProxiPlus series of Proxitron offers you not only more operating distance. The new inductive sensors offer you the opportunity to use a smaller housing with the constant or bigger switching distance than before. Also you can use the bigger switching distance to remove the sensor from a critical area for mechanical hazards and to extend its life. Of course, you can use the ProxiPlus series even at permanent ambient temperatures of up to 70 ° C.